Who knew she was playing at the Jube? Thanks Tanika for the picture and apres bus ride banter contributing to this Melissa Etheridge concert review! I came to learn of Melissa Etheridge's solo gig on the same day through lucky happenstance over at Kijiji.  My spontaneous side said let's go and moved to the kitchen to prepare a late afternoon office snack for later hitching a ride on transit to the show.
I expected a couple hours of Melissa sitting idly playing unplugged given no accompaniment.  However; instead she brought along two banks of guitars, a piano and a metronome like percussion and rhythm aid which enabled her to bring a big band feel to her vibrant hits of yesteryear.  That raspy rock voice was unmistaken as she took to the stage playing feverishly to a hard core Calgary following.  Her supreme stage presence and signature high key were on display early.  Softness and subtlety was also demonstrated in her piano cover of Joan Armatrading.   Harmonica and slide guitar added breadth and intricacy to melodies inspired by rich lyrics sometimes laden with social innuendo.  A Melissa Etheridge concert review would be incomplete without acknowledging her charming persona obviously enriched through life experience and motherhood.
Two new songs, "Take My Number" and "Monster" were showcased from her soon to be released album "This is M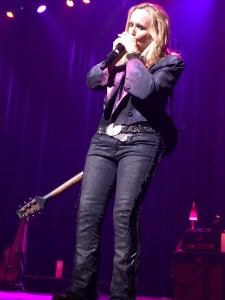 .E."  Look to see the former hitting charts.   Other big hits included, I Want to Come Over, and Chrome Plated Heart.
Bring Me Some Water closed out the show prior to a most fitting encore.  Lead guitar skills were on extreme display with "Like The Way I Do".  The ballet theatre turned absolute rock house for this ten minute tirade!  Particular explosive moments had her hitting high vocal notes with purity to the delight of an audience either stymied by her brilliance or lost in the uninhibited ecstasy of this masterful musical performance.
For upcoming tour dates:
http://www.melissaetheridge.com/tour/
September 2nd, 2013, Jubilee Auditorium, Calgary, Alberta Canada